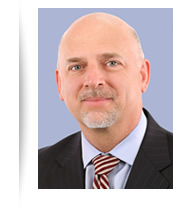 Peoples Health, a Medicare Advantage company serving Louisiana residents, is pleased to announce the promotion of Warren Murrell to president and CEO. Murrell's new position reflects the increased role he has played in representing the company at all levels, both within Peoples Health and in the community. He assumes the leadership role after the passing of the former CEO, Carol Solomon, on Dec. 4, 2016.
"It is an honor to assume the role of president and CEO," said Murrell. "Our success as a leader in Medicare Advantage products and services is derived from our deep connections to our plan members, our network of healthcare providers and the communities we serve. We will continue placing our plan members' overall health and well-being at the forefront of everything we do."
In his new role, Warren Murrell is the driving force behind the Peoples Health business model and is focused on making a positive impact on the overall health of plan members. He will steer the development and enhancement of the Medicare Advantage plans the company offers and will direct the development of the strategic plan for the continued growth of Peoples Health.
"Warren has been crucial in the establishment of our overall model for the health plans we offer, and he will continue to lead the endeavor to improve health outcomes for our plan members," said Dr. Stephen Goodwin, Peoples Health board of directors chair.
Murrell brings more than 24 years of healthcare experience to this role, 16 of which have been with Peoples Health. In January 2015, he was named president and chief operating officer as part of the long-term leadership succession plan. Previously, he served as chief operating officer, vice president of IPA services and regional director of IPA services.
"Warren has been a key participant in the strategic direction of the company, and I am confident in his exceptional skills and leadership," said Dr. Lawrence Levy, Peoples Health board of directors member. "We have no doubt Warren's leadership will help the company continue to succeed at the highest levels in our business model."
Prior to joining Peoples Health as sales manager in 2000, Murrell developed his healthcare expertise at Memorial Sisters of Charity Health Network and Prudential Healthcare, both in Houston, Texas.
Murrell earned a bachelor's degree from Louisiana State University and a Master of Business Administration focused on healthcare management from the University of Miami. Since 2012, he has served on the Louisiana Association of Health Plans board of directors, for which he is currently president. He also serves on the board of directors for Greater New Orleans Inc. and for Peoples Health.
To view the press release PDF, click here.