The Peoples Health Champions Program honored Paul Varisco during the New Orleans Saints game against the Washington Redskins on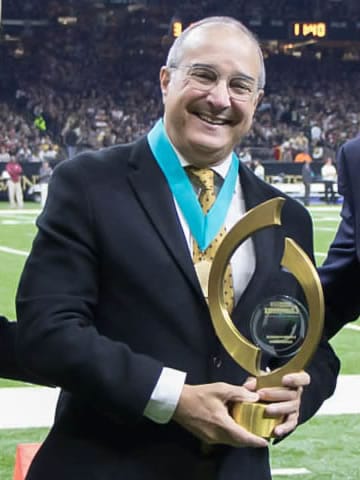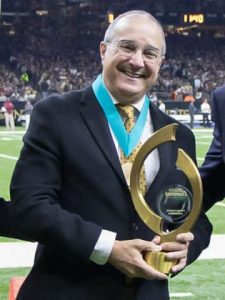 Sunday, Nov. 19, 2017, for co-founding The Gleason Initiative Foundation in 2011 at age 65. Varisco was honored for doing this extraordinary thing at age 65—building and directing a globally recognized nonprofit organization—and proving that excellence is achieved through experience.
On Oct. 26, 2011, Varisco co-founded the foundation, better known as Team Gleason, months after his son-in-law and former New Orleans Saints player, Steve Gleason, was diagnosed with amyotrophic lateral sclerosis, or ALS. Under Varisco's guidance as executive director, Team Gleason works to raise awareness about ALS and offers short-term help and travel opportunities for those living with the disease. Since its founding, Team Gleason has funded more than $3 million in innovative assistive equipment and services for people with neuromuscular diseases through its partnerships with major technology companies. Varisco relies on lessons learned from a lifetime of building relationships, running businesses and serving the New Orleans community to expand the organization and its impact.
"I'm 71, and working with Team Gleason has re-energized me because I know we're helping so many people," says Varisco. For more about Varisco's achievements and Team Gleason, visit http://champions.peopleshealth.com/meet-the-champions.
To download the press release PDF, click here.
---
About Peoples Health Champions
In collaboration with the New Orleans Saints, the Peoples Health Champions Program honors individuals who shatter the myth that ability diminishes after the age of 65 and who instead prove that excellence is achieved through experience. Nominees must be at least 65 years of age and reside in Louisiana. For more information about the program, including details on how to nominate someone as a Peoples Health Champion, visit http://champions.peopleshealth.com. Nominations can be submitted online, or call 1-877-712-7320 for a nomination form.
About Peoples Health
Established in 1994, Peoples Health is a Medicare Advantage organization serving more than 60,000 Medicare beneficiaries in Louisiana. Peoples Health Medicare health plans have been rated 4.5 out of 5 stars by Medicare for 2018, making them the highest-rated plans in the state. The physician-owned company administers and provides a unique approach to wellness, care coordination and support services for plan members. The company is a proud supporter of many social, cultural, athletic and health organizations and holds an NCQA accreditation. Visit https://www.peopleshealth.com for more information.