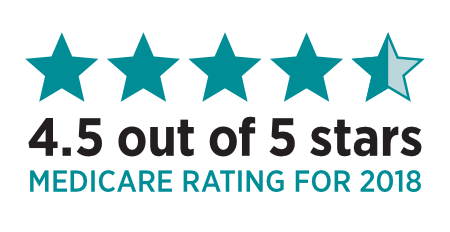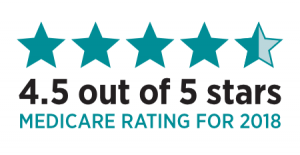 Peoples Health is pleased to announce its Medicare Advantage plans received a rating of 4.5 out of 5 stars from the Centers for Medicare & Medicaid Services (CMS) for 2018. The rating, which increased from 4 stars for years 2012 through 2017, positions the company as having the highest-rated Medicare health plans in the state.
Each year CMS, the federal agency that oversees the Medicare program, uses a star rating system to measure how well Medicare Advantage and prescription drug plans perform in several categories, including quality of care and customer service. Ratings range from 1 to 5 stars, with 5 being the highest score and 1 being the lowest.
"Our approach is to provide each member with personalized care focusing on specific needs and goals. CMS' rating of our plans at 4.5 stars validates that our coordinated care approach makes all the difference," said Warren Murrell, Peoples Health president and CEO. The company's goal is to make a positive impact on the health of its more than 60,000 plan members by focusing on preventive care, as well as chronic care management and acute care management. Murrell pledged to continue placing member health and well-being at the forefront of the organization's goals.
The start of the 2018 Medicare annual enrollment period renews the company's commitment to offer robust Medicare health plans. "For 2018, under 20 percent of plans in the U.S. reached 4.5 stars or better, so we're proud of our star rating and confident in the products and services we offer," said Nick Karl, Peoples Health chief marketing officer.
The Medicare annual enrollment period runs from Oct. 15 through Dec. 7.
To read more about our Medicare Star Rating, click here.
To download the press release PDF, click here.
---
About CMS Star Ratings
Medicare evaluates plans based on a 5-star rating system. Star ratings are calculated each year and may change from one year to the next. Peoples Health is rated 4.5 out of 5 stars for 2018. The "highest-rated" designation is based on the Medicare star ratings for Medicare Advantage and special needs plans listed in the CMS publication Medicare & You 2018.
About Peoples Health
Established in 1994, Peoples Health is a Medicare Advantage organization serving more than 60,000 Medicare beneficiaries in Louisiana. Peoples Health Medicare health plans have been rated 4.5 out of 5 stars by Medicare for 2018, making them the highest-rated plans in the state. The physician-owned company administers and provides a unique approach to wellness, care coordination and support services for plan members. The company is a proud supporter of many social, cultural, athletic and health organizations and holds an NCQA accreditation. Visit https://www.peopleshealth.com for more information.