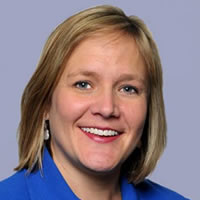 Peoples Health announced the promotion of Suzi Swoop O'Brien to vice president of health plan operations. O'Brien directs the activities of various departments to streamline technologically advanced processes while exceeding regulatory mandates. She also provides creative and strategic support for corporate projects and initiatives.
O'Brien brings in-depth knowledge and a unique perspective on the local healthcare market to her position. She has held several managerial roles in her 20 years with Peoples Health and most recently served as assistant vice president of claims operations to direct and optimize claims processing systems.
O'Brien earned a Bachelor of Science in commerce and business from the University of Alabama, where she majored in healthcare management. She is a member of the United Way of Southeast Louisiana's Women's Leadership Initiative team and dedicates additional time serving a number of local nonprofit organizations. She also represents Peoples Health as a member of the Louisiana Association of Health Plans and America's Health Insurance Plans.
To download the press release PDF, click here.
---
About Peoples Health
Established in 1994, Peoples Health is a Medicare Advantage organization serving more than 60,000 Medicare beneficiaries in Louisiana. Peoples Health Medicare health plans have been rated 4.5 out of 5 stars by Medicare for 2018, making them the highest-rated plans in the state. The physician-owned company administers and provides a unique approach to wellness, care coordination and support services for plan members. The company is a proud supporter of many social, cultural, athletic and health organizations and holds an NCQA accreditation. Visit
https://www.peopleshealth.com for more information.