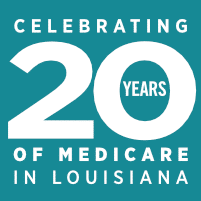 Peoples Health is proud to announce that this year marks its 20th year providing Medicare Advantage plans for Louisiana residents.
The milestone is illuminated by the star rating announcement from the Centers for Medicare & Medicaid Services (CMS) designating the company's plans as 4.5-star plans for 2018. The rating positions Peoples Health as having the highest-rated Medicare health plans in the state. Additionally, the company was named one of U.S. News & World Report's Best Medicare Advantage Plans for 2018.
In 1997, Peoples Health welcomed members into its first Medicare Advantage plan. As part of the newly created Medicare+Choice program, now known as Medicare Advantage, Peoples Health was one of the first companies to offer plans in Louisiana. Since then, the company has grown from 3,200 members in three parishes to more than 60,000 statewide.
"As a physician-owned health plan, we've always tried to make our members' healthcare needs our top priority." said Warren Murrell, Peoples Health president and CEO. "Our physicians have worked closely with us to develop comprehensive, individualized care plans for our members, helping to ensure that each member receives the highest quality healthcare possible."
"CMS' recognition of Peoples Health for the past four years as administering 4-star plans—and now 4.5-star plans—underscores that our practice of keeping our plan members at the center of everything we do is making a difference," Murrell added.
Peoples Health acknowledges that its success as an industry leader comes as a result of deep connections to its network of healthcare providers and the communities it serves, but especially to its plan members. Of the company's total membership, 90 Medicare beneficiaries have been members of that first Peoples Health plan since the beginning. "I'm always bragging about Peoples Health," said Richard Kuntz, one of those long-time members. "With all the help from Peoples Health, I'm still kicking."
The 2018 Medicare annual enrollment period continues the company's 20-year commitment to provide comprehensive Medicare Advantage plans in Louisiana. "We're excited to unveil our 2018 plans and to engage with members and prospective members to help them get the most out of Medicare," said Nick Karl, Peoples Health chief marketing officer.
The Medicare annual enrollment period runs from Oct. 15 through Dec. 7. 
To download the press release PDF, click here.
---
About Peoples Health
Established in 1994, Peoples Health is a Medicare Advantage organization serving more than 60,000 Medicare beneficiaries in Louisiana. Peoples Health Medicare health plans have been rated 4.5 out of 5 stars by Medicare for 2018, making them the highest-rated plans in the state. The physician-owned company administers and provides a unique approach to wellness, care coordination and support services for plan members. The company is a proud supporter of many social, cultural, athletic and health organizations and holds an NCQA accreditation. Visit https://www.peopleshealth.com for more information.