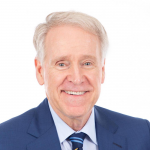 Peoples Health is pleased to announce the appointment of Dr. Stephen Walker to regional medical director. Walker collaborates with system and regional executive directors, pharmacists and clinical directors to optimize health care delivery organization and management. He also provides clinical oversight for Peoples Health staff, network providers and network provider office staff.
A physician executive, Walker brings more than 35 years of experience in the medical field to the position. Prior to joining Peoples Health, he served as medical director for Blue Cross and Blue Shield of Louisiana's commercial and Medicare Advantage lines of business.
Walker received his medical degree from the School of Medicine at Louisiana State University Health Sciences Center New Orleans. He completed a residency in occupational medicine at Emory University School of Medicine. He received postgraduate medical training in internal medicine from Louisiana State University Health Sciences Center New Orleans and in medical genetics from Yale University School of Medicine. He also earned a Master of Public Health from Medical College of Wisconsin, a Master of Business Administration from Louisiana State University's College of Business and a Master of Science in biotechnology from Johns Hopkins University. He is board-certified in occupational medicine (American College of Preventive Medicine) by the American Board of Medical Specialties. He also holds the certified healthcare insurance executive designation from America's Health Insurance Plans.