Peoples Health is committed to helping our plan members manage their health and be active.
That's why most of our plans include an all-in-one fitness benefit through One Pass™, at no extra cost for Peoples Health members.
With One Pass, you get everything you need for a healthy body and mind—all through the convenience of a single benefit. Enjoy access to a nationwide network of fitness centers, plus additional perks to support your individual fitness interests, goals and needs.

Locations that work for you
Use any gym in a large network, including national fitness centers and boutique studios.

Access to multiple fitness centers
Enjoy more than one fitness center. For example, if you enjoy group classes at one and strength training equipment at another—you can go to both centers!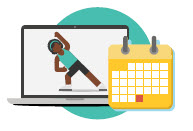 Online workouts, whenever you want
Join over 20,000 live and on-demand fitness classes online, and try workouts built just for you.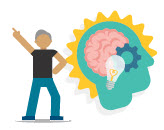 Resources to support your brain health
Explore an online program offering content about brain health, including a brain health assessment and fun activities like interactive challenges, videos and games.

Built-in community
Find groups, clubs and social events near you to meet others who share your interests.
Watch now: Fitness Benefit
Ready to get started?
Create a One Pass account to get your unique member code and access to all that One Pass has to offer.
Questions?
If you need help finding a network fitness center or have other questions about your fitness benefit, contact One Pass at 1-877-504-6830, Monday through Friday, from 8 a.m. to 9 p.m. TTY users may call 711. Have your Peoples Health member ID card ready.